08猛片繼蝙蝠俠之後,萬眾期待的應是占士邦。隨著新片11月上映,有關商品已開始推出,Sony Ericson 亦宣佈會推出電影《量子危機》Quantum of Solance 的限量版電話C902。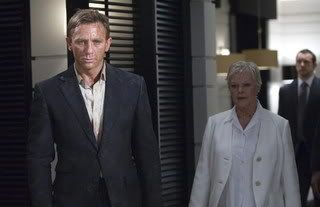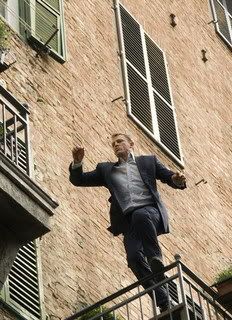 其實在06年自己也買了一部Casino Royale 版的K800i,專登去先達買水貨,因貪佢個盒有個占士邦。那時那部手機都算型!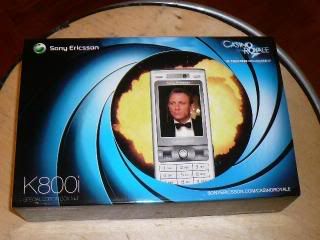 但今時今日個個都玩大「杧」,連我用緊的LG KU990都有個3吋大「杧」,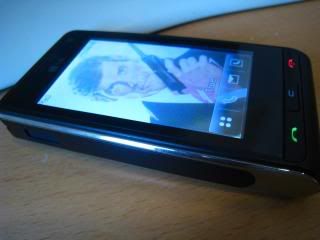 作為08年update占士邦版本的竟然還是2吋細「杧」。請看看有關描述:
Launched worldwide in July 2008
Slim Cyber-shot phone with unique slide-out lens cover. Camera-ready in an instant 5.0 megapixel camera with Face detection and Auto focus. Always capture the best shot possible Illuminated camera touch keys. Intuitive guidance around the camera settings
160MB built-in memory—the equivalent of storage for up to 100 full resolution photos—plus the possibility to add even more memory with the Memory Stick Micro (M2) that can be bundled with the phone depending on the market.
The phone incorporates the latest in lighting technology—Photo flash—giving better quality pictures even in low-light conditions.
Light solution added to the established BestPic feature—take 9 photos in quick succession, choose the best and delete the rest.
The C902 Cyber-shot is a UMTS/HSDPA 2100 and EDGE/GPRS 850/900/1800/1900 phone that will be available in selected markets in Titanium Silver in Q4 of 2008 for a limited period.
*Level 1 will be available in selected markets with additional levels made available through Sony Pictures
**Content pre-loaded onto the phone:
Welcome message
Dynamic screensavers
Static and dynamic wallpapers
James Bond mobile theme

Quantum of Solace

movie trailer
Content pre-loaded onto the memory stick:
Newswraps x 3 (behind the scenes interviews and footage from the movie and it's stars)
Wallpapers x 5
Screensaver x 1
Activision trailer
"Top Agent" game
Sony Ericsson C902 Cyber-shot? - At a Glance
C902 Cyber-shot
Camera
Auto focus
Auto rotate
BestPic
5 megapixel camera
2.5x digital zoom
Face detection
Photo fix
Photo flash
Picture blogging
Video recording
Video light
Video stabiliser
Image stabiliser
Music/Entertainment/Navigation
Media player
Mega Bass
Music tones (MP3/AAC)
PlayNow
TrackID
FM radio
Java
Media
Video streaming
Video viewing
3D games
Web/Internet
Access NetFront Web browser
RSS feeds
Communication & Messaging
Polyphonic ringtones
Speakerphone
Vibrating alert
Video calling
Email
Instant messaging
Picture messaging (MMS)
Predictive text input
Sound recorder
Text messaging (SMS)
Design
Navigation key
Picture wallpaper
Wallpaper animation
Connectivity
Bluetooth technology
Modem
Synchronisation
USB mass storage
USB support
PictBridge
Organiser
Alarm clock
Calculator
Calendar
Flight mode
Notes
Phone book
Stopwatch
Tasks
Timer
Accessories
In-Box:
Battery
Charger
USB cable
Stereo Portable Handsfree
Wrist strap in leather
Sony Ericsson PC Suite
Media Manager
User guide
Optional:
USB Card Reader CCR-70
Transfer photos and more easily from your phone to a PC.
Bluetooth Headset HBH-PV712
A powerful wireless handsfree with extra Style-up? cover
GPS-Enabler HGE-100
Add GPS technology to your phone. Know where you are, where you're going and how to get there
Design Collection IDC-23
Black leather case with a separate credit card compartment, matching hand strap and detachable jewellery
Facts and Figures
Size: 108 x 49 x 10,5 mm
Weight: 107 grams
Colours:
Titanium Silver
Screen: 262,144 colour TFT
Resolution: 240x320 pixels
Size: 2 inches
Phone memory: Up to 160MB
Memory Stick Micro (M2) support
Talk time GSM: Up to 9 hrs
Standby time GSM: Up to 400 hrs
Talk time UMTS: Up to 3.5 hrs
Standby time UMTS: Up to 350 hrs
Availability and Versions
Networks:
UMTS/HSDPA 2100
GSM/GPRS/EDGE
850/900/1800/1900
Legal
1) Facts and features may vary depending on local variant.
2) Talk and standby times are affected by network preferences, type of SIM card, connected accessories and various activities e.g. games. Kit contents and colour options may differ from market to market. The full range of accessories may not be available in every market.
請問有何吸引?占士邦不用iphone 也算了,但作為一部占士邦電話,沒有死光,不能當鬚刨,不能開鎖,不可變搖控器不要緊,但起碼都靚仔少少或多些「分唇」,但應有盡無!
占士邦電話都只是一部普通電話,很憂心占士邦電影會否都是只是一部普通電影,與007無關?
估計今次我不會再破財買這部007電話……
…………如果個盒型仔一D就可能會買…